Everything you need to know to plan a rehearsal dinner, the prelude to the main event…
The rehearsal dinner sets the stage for the entire wedding weekend and is often the first opportunity for family members and guests to meet and greet. Like the calm before the storm, it's usually relaxed and intimate, allowing the bride and groom to unwind with their closest friends and family before the whirlwind of the main event.
What is it
?
The rehearsal dinner is a celebratory meal after, you guessed it, the ceremony rehearsal. The options are endless as to the theme: it can be a formal dinner party, a backyard barbeque, or a seaside clambake. Regardless of style -- it always involves a meal of some kind.
When is it?
The rehearsal dinner usually occurs right after the rehearsal, which is almost always the afternoon or evening before the wedding.
Who hosts
?
The groom's parents traditionally host and pay for the rehearsal dinner. Nowadays, however, planning and hosting weddings -- and all the events surrounding them -- is often a group effort. During initial wedding budget talks with all contributing parties, couples need to discuss and determine plans for hosting the rehearsal dinner.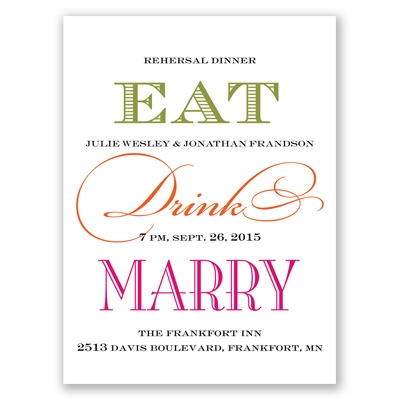 Who's invited?
The guest list typically includes the wedding party, immediate family, and the officiate. Some couples choose to invite out-of-town guests as well, but it all depends on the budget.
Where is it?
For convenience reasons, the rehearsal dinner should take place close to the wedding location; however, the choice of venue type is pretty open. Restaurants are always a popular option, yet more and more couples are starting to get just as creative with their rehearsal dinner venues as they are their wedding venues. I have seen all sorts of venues: mansions, parks, gardens, backyards, even amusement parks and racetracks have been chooses to host a rehearsal dinner.
What happens
?
Rehearsal dinners are well-suited for toasting (and roasting), since speakers may feel more comfortable in a more intimate environment. As the traditional host, the father of the groom usually speaks to welcome guests. The best man, maid of honor, bridesmaids, or really anyone else may offer a toast. The bride and groom can also use this opportunity to distribute their attendant gifts and thank their families and guests.
Ideas and Trends
More and more couples are opting for casual rehearsal dinners, especially when the wedding is particularly elegant. Brides and grooms who want to relax and enjoy themselves before the main event find an unbuttoned affair particularly enticing, causing clambakes, crawfish boils and barbeques to become popular. Other couples are centering the dinner
around
a fun activity such as a boat cruise, wine tasting, casino night, mini golf and even bowling.
Regardless of what theme is picked, it's best to plan a rehearsal dinner that's a contrast to the wedding so your guests aren't thinking "been there, done that," by the time your reception starts.